Products Catalog
Contact Us
Mob: 0086 13071070895
Tel: 0086-371-56732686
Fax: 0086-371-55907374
Email:
sales@nmbmachine.com
http://www.nmbmachine.com/
ADD: No,99,guoji road,jinshui district,zhengzhou city,Henan,China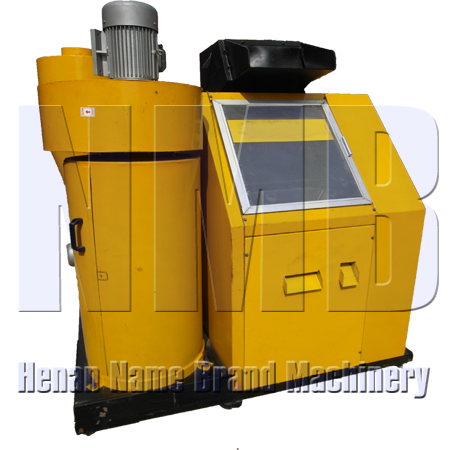 Our machine is a complete production line: granulator, shredder and separator. It is used to recycle and granulate waste wires and cables. We have two models Sf-A and Sf-B, and each model has three capacities.

Machine structure and function of wire granulator
1. Crush machine: it is used to crush materials. The size of final products is decided by the size of mesh.
2. Conveyor machine: to conveyor the crushed mixture of copper and plastics into the chute of the separator.
3. Unloading device: this place is used to unload the crushed materials on the separator evenly from the chute. The speed of the unloading is decided by the frequency changer.
4. Separator: it is used to separate crushed materials into pure copper granules and plastics.
5. Dust collection system: this part is used to collect dust, fiber, hemp rope, scraps of paper and other wastes. You'd better clean the cloth bag and keep ventilation smoothly regularly.
6. Electric cabinet: The speed table is used to adjust the sieve vibration frequency of the separator.
7. Machine chassis: Every main part is fixed on the machine chassis by screws. It is convenient for you to dismantle and maintain.
Raw material and machine picture for your reference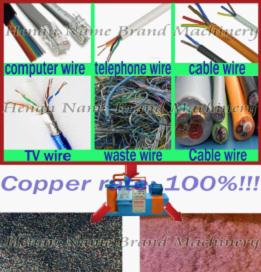 Main machine data of wire granulator
| | | | | | |
| --- | --- | --- | --- | --- | --- |
| Model | Capacity | Main motor power | Dimension | Weight | Process wire diameter |
| Sf-A1 | 100kg/h | 18.5kw | 3.65*1.95*2.2m | 2000kg | ≦10cm |
| Sf-A2 | 200kg/h | 18.5kw | 3.6*2.2m | 2000kg | ≦10cm |
| Sf-A3 | 300kg/h | 30kw | 3.9*2.2m | 3000kg | ≦10cm |
| Sf-B1 | 100kg/h | 18.5kw | 3*1.5*2.2m | 2000kg | ≦10cm |
| Sf-B2 | 200kg/h | 18.5kw | 3.05*1.5*2.2m | 2000kg | ≦10cm |
| Sf-B3 | 300kg/h | 30kw | 3.6*1.8*2.2m | 3000kg | ≦10cm |