Products Catalog
Food Machine
Biomass Plant
Copper wire recycle machine
Contact Us
Mob: 0086 13071070895
Tel: 0086-371-56732686
Fax: 0086-371-55907374
Email:
sales@nmbmachine.com
http://www.nmbmachine.com/
ADD: No,99,guoji road,jinshui district,zhengzhou city,Henan,China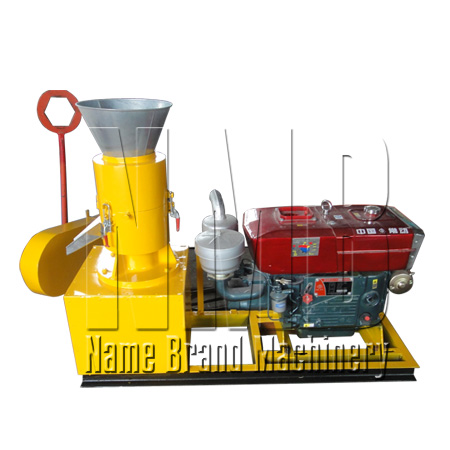 NMB-250 pellet mill machine
1,model: 250
2,capacity: 300-500kg per hour
3,power: 15kw
4, shining point: Dynamic configuration,this machine is suitbale for fuel pellet and also animal feed pellet.which high density and low cost.can produce 4-12mm diameter pellet.suitable for wood chips,straw,different type grains.shell.sawdust,etc,
5,packing and delivery: wood fumicated box and 10 days delivery after received deposit
24 Hour online Tel: 86 13071070895
Skype ID: shining0603
Description of pellet mill machine,pellets mills,pellet mills:
After different attempt and improvement, based on the advanced flat grinding type pelletizer technique, we developed this small pellet mill machine. It makes for farmer factory,it can be driven by diesel motor this make can work in the open air. It is convenient and easy to operate.
It can make full use of the agricultural waste such stalk,straw,grass,rice husk,peanut shell and tree branch,wood sawdust and other materials.
The final pellet diameter is 4mm,6mm,8mm,it can be adjusted by using different size mold.
Features of Pellet Mill Machine:
1. During the pelletizing there will be heat in the raw materials, then the grain and soybean's pancreatin resistance factor could be reduced, and also kill the parasite ovum, so it will be good for animal health and digest.
2. The pelletizing could greatly enhance the usage ratio of the traditional feed.so cost saving, energy saving.
3.The machine can be easy moved as per the producing need,you just need to keep the place flat then the machine can work steady.
Raw material and final pellet of this pellets mill machine: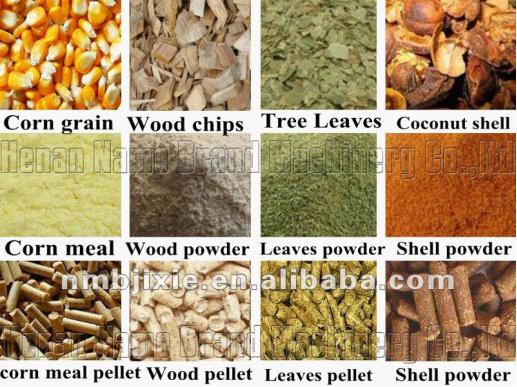 Pellet Mill Machine data

| | | | | | |
| --- | --- | --- | --- | --- | --- |
| Model No. | Output (kg/h) | Power (kw) | Pellet (mm) | Packing (m) | Weight (kg) |
| NMB200 | 200-300 | 7.5 | 6-8 | 1.15*0.53*0.75 | 250 |
| NMB250 | 300-350 | 15 | 6-10 | 1.25*0.6*0.85 | 500 |
| NMB300 | 300-500 | 22 | 6-12 | 1.3*0.6*0.9 | 600 |
| NMB350 | 400-550 | 30 | 6-30 | 1.8*0.9* 1.6 | 900 |
| NMB480 | 700-1000 | 37 | 6-10 | 1.8*1.0* 1.65 | 2300 |
| NMB550 | 1200-1500 | 75 | 6-16 | 2.2*1.8* 2.15 | 2500 |
| NMB800 | 1300-1800 | 110 | 6-32 | 2.6*1.8* 2.15 | 4400 |
| NMB980 | 2300-3000 | 160 | 6-32 | 2.6*1.9* 2.180 | 4600 |