Products Catalog
Contact Us
Mob: 0086 13071070895
Tel: 0086-371-56732686
Fax: 0086-371-55907374
Email:
sales@nmbmachine.com
http://www.nmbmachine.com/
ADD: No,99,guoji road,jinshui district,zhengzhou city,Henan,China
General description of recycling equipment for copper wire
Our machine is in dry type structure, main used to recycle all kinds of waste copper lines. The lines will be separated into tiny copper rice and PVC, the applicable diameter range of waste line can reach to 10cm. Wires and cables like automobile electrical route, car bottom line, motorcycle electric line, computer case line and communication cable, etc can also be processed by our machine. After crushing processing and shock treatment, screen separation copper and PVC will be sorting out.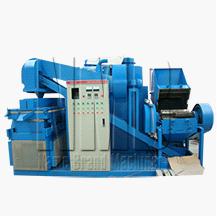 Working process of machine
This is our copper wire recycling machine model Sf-A series, it has three kinds distinguished from its capacity. The working process of this model is: put raw copper wires and cables(≦10cm) into our machine to be crushed. Then the crushed wires are conveyed into the separating system to be separated. Our separating rate is 100%, you can get pure copper granules and plastics in the end. This is an environmental-friendly equipment, dust is collected by the dust collection, no dust and no secondary pollution!

Technology parameter of recycling equipment for copper wire
| | | | | | |
| --- | --- | --- | --- | --- | --- |
| Model | Capacity | Main motor power | Dimension(L*W*H) | Weight | Diameter of wires |
| Sf-B1 | 100kg/h | 18.5kw | 3*1.5*2.2m | 2000kg | ≦10cm |
| Sf-B2 | 200kg/h | 18.5kw | 3.05*1.5*2.2m | 2000kg | ≦10cm |
| Sf-B3 | 300kg/h | 30kw | 3.6*1.8*2.2m | 3000kg | ≦10cm |