Products Catalog
Food Machine
Biomass Plant
Copper wire recycle machine
Contact Us
Mob: 0086 13071070895
Tel: 0086-371-56732686
Fax: 0086-371-55907374
Email:
sales@nmbmachine.com
http://www.nmbmachine.com/
ADD: No,99,guoji road,jinshui district,zhengzhou city,Henan,China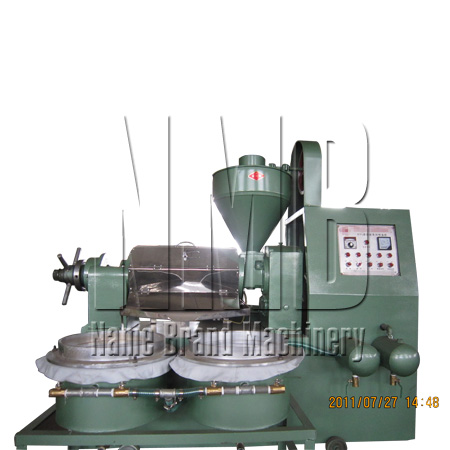 6YL 95A seed oil extraction
1,Model: 6YL-95A

2,Capacity: 200-250kg per hour

3,Power: 7.5kw

4,Shining point: this machine have two vocummer oil filters.automatic heating system,also could matched one material feeder,which let the whole machine automatic working
5,Delivery time and package:
7-10 days delivery and fumicated wood box international standard
24 Hour online Tel: 86 13071070895
Skype ID: shining0603
Brief introduction of seed oil extraction:
Our Oil Press has multifunction, including screw oil press, electrical element for heating chamber, vacuum filter for cleaning oil. It can extracting vegetable oil from different oil materials, such as peanut, rape seed, cotton seed, sesame, olive, sunflower, tea seed, coconut, cocoa, etc. You can get better edible oil easily from our oil press.
Seed oil extraction Main advantages:
This type of oil presses are advanced oil processing machinery, characterized by their simple design, easy to use, wide suitability and continuous operation; and high productivity and high oil output rate. Moreover, they can be used for various raw materials, Morever, they are suitable for medium-small sized oil extruding workshops or professional farmers.
Different raw material oil content
| | | | |
| --- | --- | --- | --- |
| Oil seeds | Oil %) | Oil cake thickness(mm) | cake residual oil rate(%) |
| Sesame seeds | 43-45 | 1.0-1.5 | ≤7 |
| peanuts | 42-44 | 0.8-2 | ≤8 |
| Rape seeds | 28-43 | 1.0-1.5 | ≤8 |
| Sunflower seeds | 42-45 | 1.2-1.5 | ≤8 |
| Soybean seeds | 15-17 | 0.8-1.5 | ≤7 |
Seed oil extraction technology features
| | | | | |
| --- | --- | --- | --- | --- |
| Model | Capacity(kg/h) | Power(kw) | Weight(kg) | Dimension(mm) |
| 6YL-68A | 30-50 | 5.5+0.55 | 300 | 430*910*1375 |
| 6YL-80A | 100-150 | 5.5+0.55 | 680 | 1920*760*1780 |
| 6YL-95A | 200 | 7.5+1.1 | 800 | 2100*1100*1950 |
| 6YL-100A | 250 | 7.5+1.1 | 800 | 2270*1100*1950 |
| 6YL-120A | 250-300 | 11+1.5 | 1000 | 2400*900*2200 |
| 6YL-130A | 400-500 | 15+2.2 | 1280 | 2400*1000*2300 |
| 6YL-160A | 600-750 | 18.5+2.2 | 1350 | 2600*1940*2150 |
| 6YL-165A | 800-900 | 22+2.2 | 1800 | 2700*1950*2200 |