Products Catalog
Food Machine
Biomass Plant
Copper wire recycle machine
Contact Us
Mob: 0086 13071070895
Tel: 0086-371-56732686
Fax: 0086-371-55907374
Email:
sales@nmbmachine.com
http://www.nmbmachine.com/
ADD: No,99,guoji road,jinshui district,zhengzhou city,Henan,China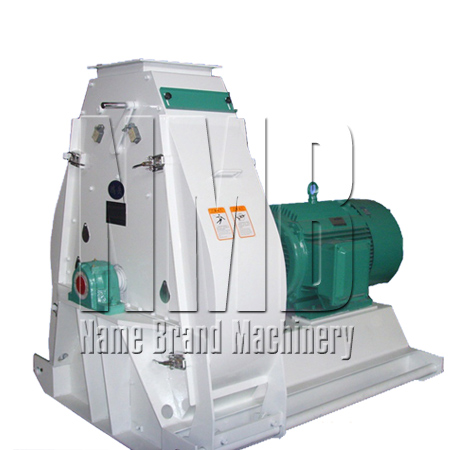 Introduction of grain mill grinder
1. Unique Feeding Design, the feeding inlet is made at the side of the device to make feeding easily.
2. The shell is welded by steel plate, the site in the crush room which connects to the materials all use the wearable and commutative parts and double wear plate.
3. The motor and rotor are installed in the same heavy-duty base, using coupling direct drive, the rotor are checked by dynamic balance, and can work forward and reverse, the hammers are arranged symmetrically.
4. The second grinding designed for grinding chamber, the output can increase 15% even particle size.
5. Two kinds of gap between beaters and screeners through changing position of beater are used for coarse and fine grinding.
6. The smaller gap between beater and screeners can be used for grinding coarse and fine materials.
7. Applicable for raw materials grinding such as corn, Chinese sorghum, wheat, crumbled cake-shaped material etc.
8. It can also grind the raw materials: Woodchips, straw, rice husk, grass, sunflower, grass, woodchips, corn staw, wood shaving, olive slag, paper etc.

grain mill grinder machine Working principle
1. The material needs to be ground be fed into the top intake port through the feeding device which matches this hammer mill, enters into the grinding room from the left or right side through intake direction plate.
2. Under the beating of high speed rotating hammer and the rubbing effect of screen, material is grinded gradually, and discharged from the seat discharging port through screen holes under the effect of centrifugal force and airflow.
We have many model this type machine with different capacity, For more machine details, welcome to email us or call us, glad to supply you details!

| | | | | | | |
| --- | --- | --- | --- | --- | --- | --- |
| Model | NMB56×36 | NMB56×40 | NMB708×40 | NMB112×30 | NMB112×40 | NMB112×60 |
| Power(KW) | 22 | 37 | 55 | 75/90 | 110/132 | 160/200 |
| Capacity(T/H) | 4-5 | 5-7 | 7-10 | 12-15 | 25-35 | 38-50 |