Products Catalog
Food Machine
Biomass Plant
Copper wire recycle machine
Contact Us
Mob: 0086 13071070895
Tel: 0086-371-56732686
Fax: 0086-371-55907374
Email:
sales@nmbmachine.com
http://www.nmbmachine.com/
ADD: No,99,guoji road,jinshui district,zhengzhou city,Henan,China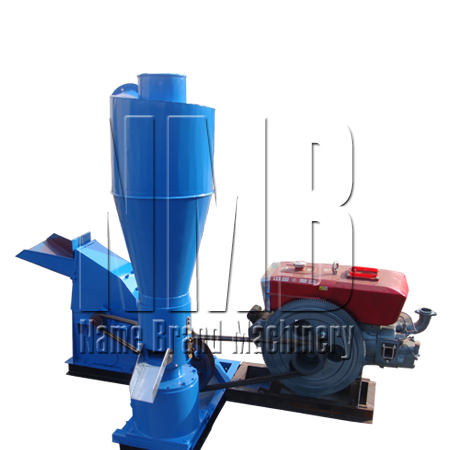 feed milling machine
1, model:
250 pellet machine with crusher
2,Power:
22kw

3, capacity:
250-300kg/h
4, shining point:
this machine is pellet machine combined with material crusher in one machine.so when working,the material is directly crush and pellet at the same time,which highly decrease the labour.

5,package and delivery:
wood fumicated box and 10 days delivery time
24 Hour online Tel: 86 13071070895
Skype ID: shining0603
Usage of feed milling machine
1)The wood pellet from the wood sawdust,tree branch,rice husk and other materials can be used for fuel for home fireplace,heating stoves,hot boilers and the industrial boilers.
2)The feed pellet from the grains such as corn,oil cake,soybean cake,grass and other animal eating materials can used as animal feed for poultry in famly,farm and other fields!
3)The pellet also can be used for the pet such as cat,dog,bird and other animals!
feed milling machine data( pellet machine with crusher in one machine)
Model
Power(KW)
Capacity(kgs/H)
Weight(kgs)
structure
NMB-200
15
200-300
200
Crusher+cyclone+dieseldrivedpelletmill
NMB-250
22
250-300
350
NMB-300
30
350-450
550
Terms and Conditions
1. PAYMENT: T/T
2. DELIVERY TIME: Within 10-15 days after receiving payment
3. WARRANTY PERIOD:
* Free replacement of wearing parts in 6 months from the date of purchasing.
* Free replacement of main body in 12 months from the date of purchasing.
Mini Pellet Machine Feature
1. Stable performance,low energy consumption
2. Convenient to repair and maintain
3. Low failure rate ,easy operation
4. High pellet forming rate
5. Pellet with high density