Products Catalog
Food Machine
Biomass Plant
Copper wire recycle machine
Contact Us
Mob: 0086 13071070895
Tel: 0086-371-86068951
Fax: 0086-371-86632337
Email:
sales@nmbmachine.com
http://www.nmbmachine.com/
ADD: No,99,guoji road,jinshui district,zhengzhou city,Henan,China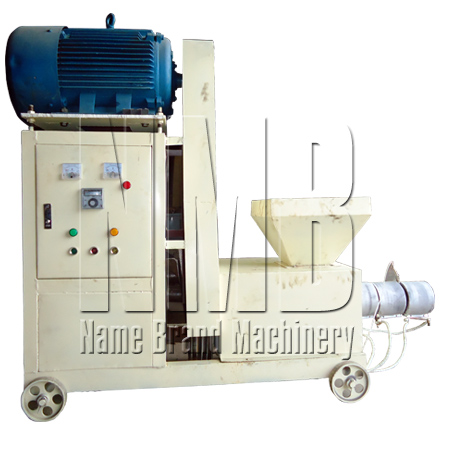 ZBJ-II briquette machine for sale
1,Model:
ZBJ-II
2,Capacity:
200-300kg/h
3,Power:
15kw
4,Electric heater:
3x1.5kw
5,Diameter:
50/70mm
6,Dimension:
1700*800*1280mm
7,Weight:
650kg
8,shining point:
Almost all type of Agro-Forestry waste crushed can be used, the final briquettes can be 50,70mm,
24 Hour online Tel: 86 13071070895
Skype ID: shining0603
briquette machine for sale Introduction:
Briquetting machine is used to make sawdust, sugar cane, rice straw, rice stalk, corn stalk, cotton stalk, bean husk and other agro-waste and forestry waste into half-charcoal stick. The product of this machine can be used to heat boiler, fireplace,etc for warm in house. The length of the finished product can be controlled by yourself, and we can also change it right for your requirement.

briquette machine for sale Working principle
Briquetting machine uses a large screw to grind, compress and extrude the biomass into briquettes. The natural lignin content in biomass is liberated with wood fiber under high pressure and temperature.In the briquetting process lignin serves as the glue and combines the particles of wood together,thus binding, compressing the biomass to form into various moulds of high density briquette, such as hexagonal, quadrangular, square,etc. As your requirement, we can also change the shape to order. And the diameter of briquettes are from 50-80 mm. Moreover non-binder needs to be used during this process.