Products Catalog
Food Machine
Biomass Plant
Copper wire recycle machine
Contact Us
Mob: 0086 13071070895
Tel: 0086-371-56732686
Fax: 0086-371-55907374
Email:
sales@nmbmachine.com
http://www.nmbmachine.com/
ADD: No,99,guoji road,jinshui district,zhengzhou city,Henan,China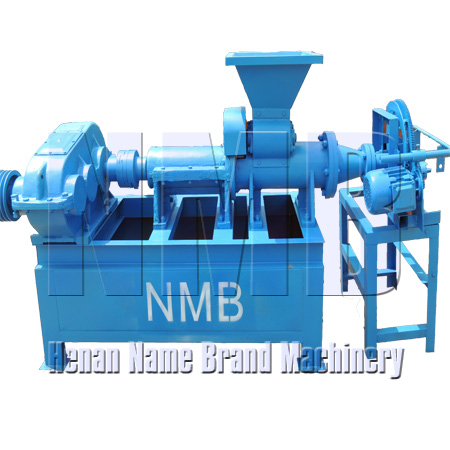 NMB-140 charcoal press machine
1,Model:
NMB-140
2,Capacity:
1000-3000kg/h(different materials bring different capacity)
3,Power:
7.5-11
4,Dimension:
2320*1000*890mm
5,Weight:
1800kg
6,
Delivery time and package :
7-10 days fumicated wood box international standard
24 Hour online Tel: 86 13071070895
Skype ID: shining0603
Description of charcoal press machine
Our machine is used to make coal/charcoal sticks from coal/charcoal powder, and carbonized agro-wastes like: sawdust, rice husks, groundnut shells,

coconut shells, palm shells, coffee husks, wood chips and others. The size of raw materials should be less than 3mm. If the size is too big, it is difficult to

shape. The diameter of final products is 30-60mm. Different shapes can meet your different needs: square shape, round shape and hexagon shape!

How to make charcoal briquette?
1. If your raw material is coal/charcoal dust, crush them into powder form(no less than 3mm), add some water and adhesives like starch such as rice flour

and tapioca and stir them evenly, then put them into our machine directly to press;
2. If you use agro-wastes as raw material, you need to carbonize them to be charcoal firstly, then crush them into powder form, then begin to press.

If you are not satisfied with this model, we have other model with small capacity for you to choose!