Products Catalog
Food Machine
Biomass Plant
Copper wire recycle machine
Contact Us
Mob: 0086 13071070895
Tel: 0086-371-56732686
Fax: 0086-371-55907374
Email:
sales@nmbmachine.com
http://www.nmbmachine.com/
ADD: No,99,guoji road,jinshui district,zhengzhou city,Henan,China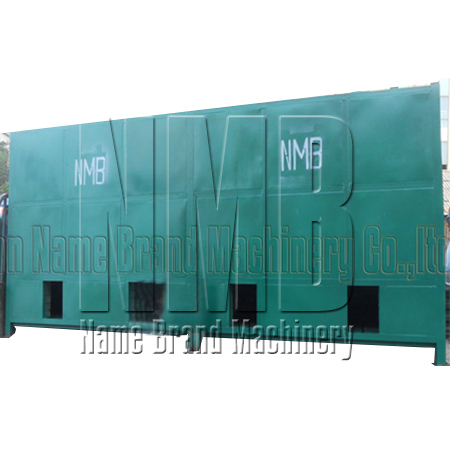 DZ-800 Carbonization furnace
1,Model:
DZ-800 Carbonization stove
2,Capacity:
600kg(output)
3,Carbonization time:
6-8hours
4,Weight:
3000kg
5,Dimension:
4000x1500x2000mm

6,Shining point:
suitable for any tpe farm waste such as wood log,branch,shell,stalk,etc,the final products when burning have no smoke
24 Hour online Tel: 86 13071070895
Skype ID: shining0603
Introduction
Our gas flow carbonization furnace is our new design,as the raw material such as briquettes or wood ,bamboo and so on will resolve into fuel gas,oil tar and charcoal after be heated, we installed fuel gas recovery unit on the basis of original carbonization stove ,then there will be smokeless ,and the fuel gas which was recovered could be ignited like liquefied gas!and the fuel gas will be used for heating the raw material which in the stove to complete carbonization process !It's very energy saving and environmental protection!
The three stage of Carbonization(carbonization process)
1) Drying stage
From ignite to the temperature of stove be 160C,the moisture of briquette will evaporate by external heating and self burning,at this stage, the composition of briquettes almost no change!
2) Pyrolysis stage
This stage depend on the briquettes burning to make the temperature rise to 160-280C,this moment the wood material will begin thermal decomposition reaction,the composition of briquettes begin to change,for example, hemicellulose resolve into CO2,CO and less acetic acid.
3) Comprehensive carbonized stage
During this stage,wood material begin thermal decomposition sharply,and produce mass of acetic acid,
Methanol, wood tar and some other liquid production.Also produce some methane, ethylene and other combustible gas,and the combustible gas ignited in the stove,Thermal decomposition and gas ignition produces mass heating,to make the stove temperature rise up,and the wood material was carbonized into charcoal under high temperature!