Products Catalog
Food Machine
Biomass Plant
Copper wire recycle machine
Contact Us
Mob: 0086 13071070895
Tel: 0086-371-56732686
Fax: 0086-371-55907374
Email:
sales@nmbmachine.com
http://www.nmbmachine.com/
ADD: No,99,guoji road,jinshui district,zhengzhou city,Henan,China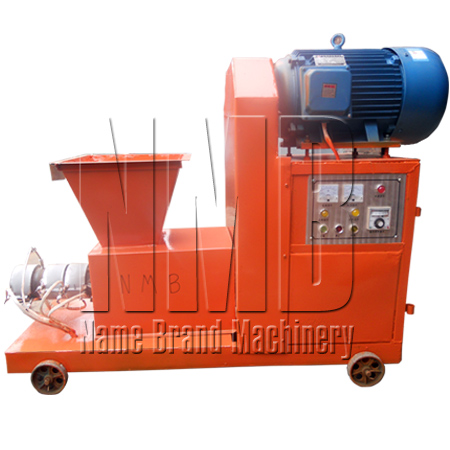 ZBJ-II briquette press
1,Model:
ZBJ-II
2,Capacity:
200-300kg/h
3,Power:
15kw
4,Electric heater:
3x1.5kw
5,Diameter:
50/70mm
6,Dimension:
1700*800*1280mm
7,Weight:
650kg

8,shining point:
Almost all type of Agro-Forestry waste can be used, the final briquettes can be 50,70,90mm
24 Hour online Tel: 86 13071070895
Skype ID: shining0603
briquette press Introduction:
briquette press shows the features of high capacity, low energy consumption, compact and durable. Many performance data such as capacity, wood briquettes density, electricity consumption and wearable degree has reached advanced level. The out diameter of finished briquettes is 50-70mm

Raw material
Almost all type of Agro-Forestry waste can be used, including: wood chips, maize stalks, soybean stalks, broomcorn stalks, cotton stalks, rape stalks, peanut plants, sunflower stalks, bamboo saw dust, bagasse, etc.

Prospect of briquette press
Charcoal / Biomass Briquette investment is a best project to generate revenue from agro-forestry waste and to produce Green Energy to save the global environment. The awareness of using Eco-friendly & Non-conventional Bio-coal / Bio-fuel is increasing day-to-day due to the increasing of the conventional fuel cost. This plant can make charcoal stick of different diameter and different shape from biomass and agro-forest waste. Raw Material to make Charcoal / Biomass Briquette: Any type of Agro-Forestry waste can be used.