Products Catalog
Food Machine
Biomass Plant
Copper wire recycle machine
Contact Us
Mob: 0086 13071070895
Tel: 0086-371-56732686
Fax: 0086-371-55907374
Email:
sales@nmbmachine.com
http://www.nmbmachine.com/
ADD: No,99,guoji road,jinshui district,zhengzhou city,Henan,China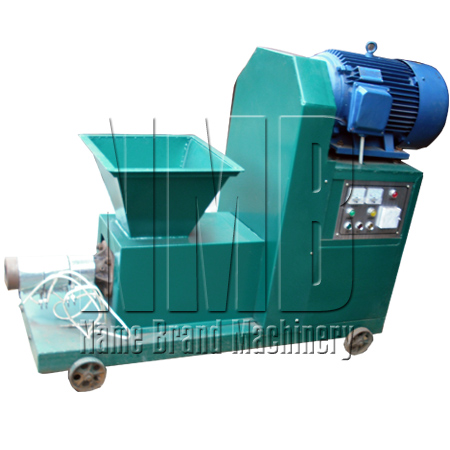 ZBJ-III briquette making machine
1.Machine data: ZBJ-III
2. Capacity: 350-400kg/h
3.Power: 22kw
4.Electric heater: 3x2.2kw
5.Briquette Diameter:50/70/80mm
6. Dimension: 1700*800*1280mm
7. Weight: 650kg
8.Delivery time: 10-15days after payment!
24 Hour online Tel: 86 13071070895
Skype ID: shining0603
一、Introduction of the briquette plant
Briquette machine is very popular in the world,because it's very environment and save investment cost,It can take wood sawdust, rice husk,paddy straw,stalk and other biomass material into briquettes,and during this process, no binder needs to be used. So the output briquette is a type of clean and green fuel that is ideal for use in furnaces, boilers and open fires.

二、Working principle of briquette plant
Briquetting is a process that biomass is compressed under high pressure and high temperature.The lignin content that occurs naturally in biomass is liberated under high pressure and temperature. Lignin serves as the glue in the briquetting process, thus binding, compressing the biomass to form into high density briquettes. The density of the briquettes is 900-1400kg/m³.

三、Complete Production Process :
1. Crushing the raw materials into size no bigger than 5mm.
2. Dry the materials to be 8-12%
3. Press the raw material into biomass briquettes
4. Carbonized the briquettes to be charcoal in carbonization stove